Centro Mobile Pedestal
Product Number 1972274
The Centro mobile pedestal, available in satin white, has two drawers for spacious storage, as well as casters with attractive metal accents. The pedestal can lock to keep valuables and files secure. What's more, the top of the pedestal has a tray that slides out for convenient use and storage.
Size
L
15.25''
W
21''
H
23''
Availability In Stock
Currently on display in Phoenix, Tucson, San Antonio, Austin
Also Available
Additional Recommended Products
Sequel 20 Three Drawer Mobile File Pedestal
$699.00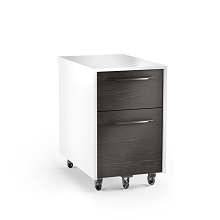 Format Mobile Pedestal
$899.00
Corridor Mobile File
$999.00
Special Purchase
Stressless® Admiral
Starting at $1995
Welcome to your wishlist!
Save your favorite items to your wishlist and come back to them later. If you already started a wishlist, LOG IN to see your items on this tab.
Don't have an account? Sign Up