Bennett Sectional
Product Number 2252767
The Bennett Sectional, available with grey leather upholsery and metal legs, features comfortable, structured design, with two power motion recliners, two power motion headrests, and three manual headrests. Matching stitching along the seat and back cushions creates a tailored look, one that is designed to encourage relaxation while still resting in style.
Availability Please Call
Currently on display in Tempe, Scottsdale, Austin
Also Available
Additional Recommended Products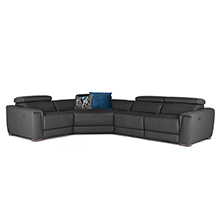 Stefano Power Motion Sectional
$7,695.00
Giana Sectional
$7,698.00
Lianne Sectional with Power Motion
$7,348.00
Special Purchase
Splitback Sofa Sleeper
Now $799

Welcome to your wishlist!
Save your favorite items to your wishlist and come back to them later. If you already started a wishlist, LOG IN to see your items on this tab.
Don't have an account? Sign Up