Bellami Lift Desk
Product Number 2044647
The Bellami lift desk, available in grey eco-veneer, is a contemporary sit-stand desk that features electronic height adjustment. Bellami Lift helps you work more productively and dynamically throughout the day by allowing you to sit or stand at the optimal height for comfort.

Credenza, as pictured here, is available for purchase at additional cost.
Size
L
66''
W
30''
H
29'' - 44 3/4''
Availability Please Call
Currently on display in Phoenix, Tempe, Scottsdale, San Antonio
Also Available
Additional Recommended Products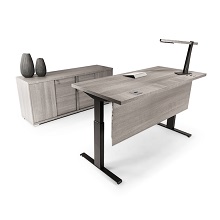 Bellami Lift Suite
$3,037.00
Welcome to your wishlist!
Save your favorite items to your wishlist and come back to them later. If you already started a wishlist, LOG IN to see your items on this tab.
Don't have an account? Sign Up