Bora Sofa
Product Number 2143251
The Bora Sofa features crisp linear lines and subtle curves that are mutually enhancing, resulting in a clean silhouette. The black primary fabric has variegated tones of grey, and the thick black stitching details the wide arm rests beautifully. Satin metal legs complement the fabric.
Availability In Stock
Currently on display in Tempe, San Antonio, Austin
$2,298.00
Anniversary Price
While Supplies Last
Anniversary Price:

$1,798.00
Also Available
Additional Recommended Products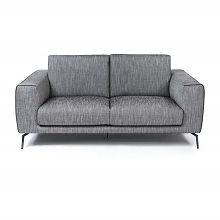 Bora Loveseat
$1,998.00
50th Anniversary Specials Collection
20 - 30% Off
Anniversary Exclusives!

50TH ANNIVERSARY SPECIAL
Shop Modern!
Welcome to your wishlist!
Save your favorite items to your wishlist and come back to them later. If you already started a wishlist, LOG IN to see your items on this tab.
Don't have an account? Sign Up