Mayfair Office Chair
Product Number 1892472
The Mayfair Medium Chair and Ottoman, designed by Ekornes of Norway, has a laid-back, elegant design with cutting edge comfort technology. Available with a classic black base and black Paloma leather, this piece has an amply padded back and seat cushions with a lightly tufted stitching pattern that creates a tailored feel and quilted look. The Mayfair chair is equipped with Plus™ and Glide systems, which allow the chair to provide continuous support for the head and lower back, while also adjusting the reclining angle based on shifts of the body. Mayfair will bring timeless style and classic Stressless® comfort to your home.

Paloma leather is a smooth, lightly protected leather that makes cleaning easier and the leather more resistant to gentle wear and tear. Proper care will ensure the longevity of this piece for years to come.
Size
L
31''
W
26.5''
H
43.5''
Height is adjustable from 43.5" to 46.5"
Seat depth is 18.5'' / Seat height is adjustable from 18''-20.75''
Availability In Stock
Currently on display in Phoenix, Tempe, Scottsdale, Tucson
Also Available
Additional Recommended Products
Mayfair Large Chair and Ottoman
$2,895.00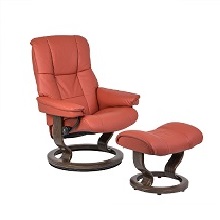 Mayfair Medium Chair and Ottoman
$2,795.00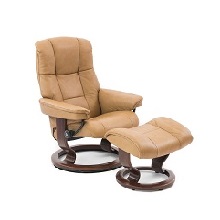 Mayfair Small Chair and Ottoman
$2,695.00
Special Purchase
Stressless® Admiral
Starting at $1995
Welcome to your wishlist!
Save your favorite items to your wishlist and come back to them later. If you already started a wishlist, LOG IN to see your items on this tab.
Don't have an account? Sign Up