Jessica Queen Bed
Product Number 2149822
The Jessica bed brings soft, welcoming surfaces and warm grey tones into your bedroom. Jessica, upholstered in soft grey leather, has a simple, clean design that infuses your space with a sense of warmth and elegance.
Availability In Stock
Currently on display in Phoenix, Tempe, Tucson, Austin
$1,778.00
Anniversary Price
While Supplies Last
Anniversary Price:

$1,295.00
Also Available
Additional Recommended Products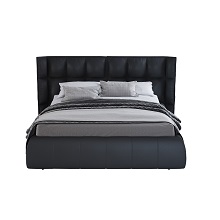 Michelle King Bed
$1,499.00
50th Anniversary Specials Collection
Exclusive Senator Chair
At a Special Price!

50TH ANNIVERSARY SPECIALs COLLECTION
20-30% OFF
Welcome to your wishlist!
Save your favorite items to your wishlist and come back to them later. If you already started a wishlist, LOG IN to see your items on this tab.
Don't have an account? Sign Up