Evan Sofa
Product Number 2151635
The Evan Sofa, available in warm brown leather, contrasts clean design with casual style. Wide, downy seats complement the thin armrests, and an attractive row of cross-stitches on the back cushions add a layer of detail. Angular legs complete the design, contributing to a touch of minimalist, mid-century design.
Availability
ETA
Early November 2020
Currently on display in Phoenix, San Antonio, Austin
$1,840.00
Anniversary Price
While Supplies Last
Anniversary Price:

$1,495.00
Also Available
Additional Recommended Products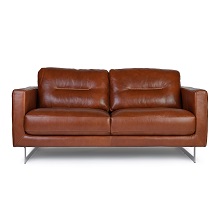 Evan Loveseat
$1,885.00
50th Anniversary Specials Collection
20 - 30% Off
Anniversary Exclusives!

50TH ANNIVERSARY SPECIAL
Shop Modern!
Welcome to your wishlist!
Save your favorite items to your wishlist and come back to them later. If you already started a wishlist, LOG IN to see your items on this tab.
Don't have an account? Sign Up