Format Desk
Product Number 1479076
Engineered for a small office, the Format collection is elegant and modern. The Format Desk includes a flip-down multifunction drawer for a keyboard, mouse and/or storage of rechargeable items. The drawers are lined with black neoprene to keep contents securely in place. The front and rear panels tilt down for easy access to wiring and outlets.

Available in satin white with walnut wood, as well as in satin white with charcoal.

Availability In Stock
Currently on display in Tempe, Tucson, San Antonio, Austin
$1,399.00
Promotion Price: $1,119.00
Until: Jun. 01, 2020
Also Available
Additional Recommended Products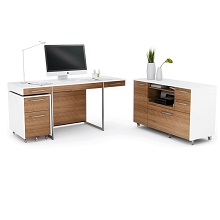 Format Office Suite
$3,797.00
ON PROMOTION
American Leather Comfort Sleepers
10% Off Until June 15
Welcome to your wishlist!
Save your favorite items to your wishlist and come back to them later. If you already started a wishlist, LOG IN to see your items on this tab.
Don't have an account? Sign Up